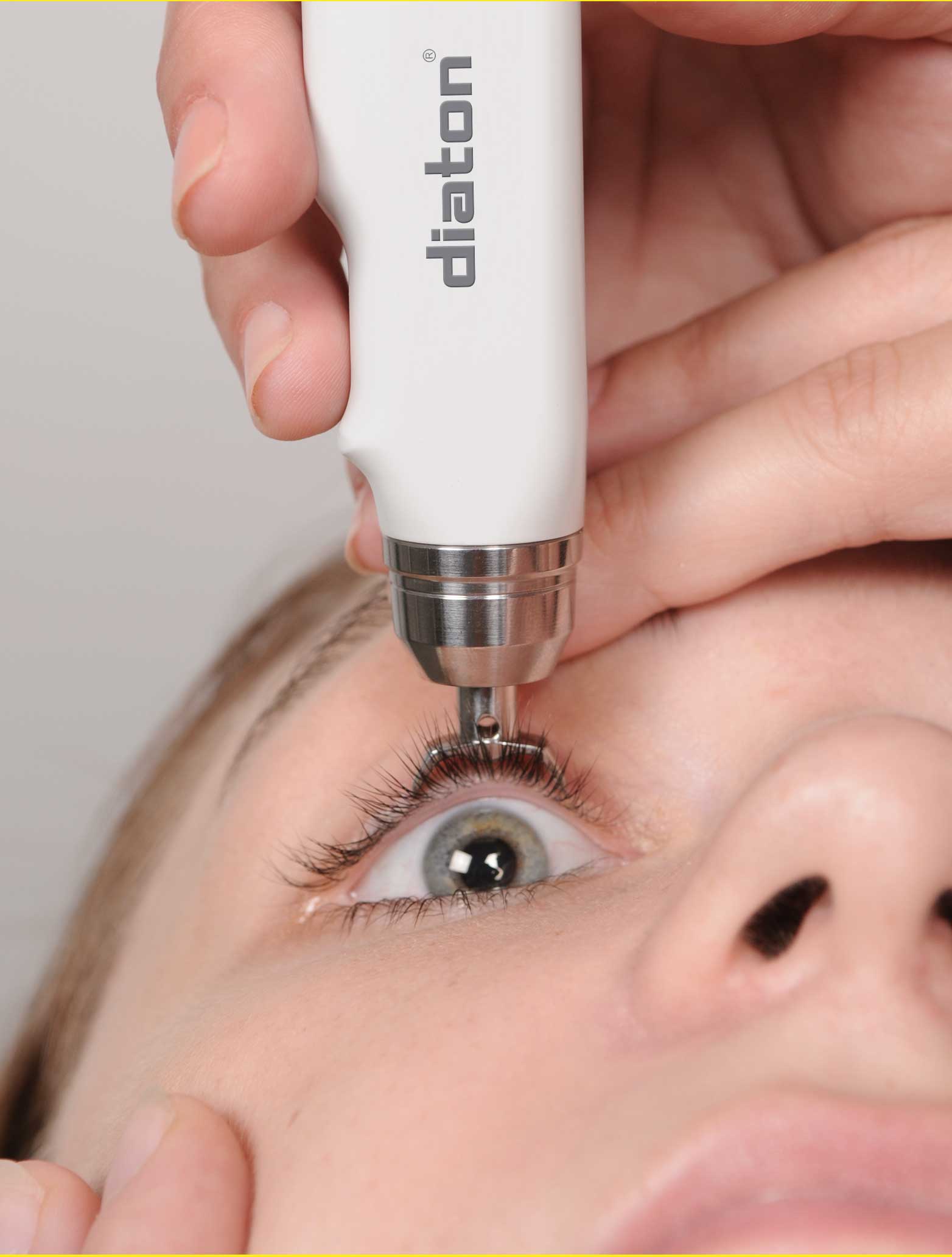 Major Benefits of Diaton Tonometer:
Easy to use. Can be used by any trained personnel
Quick, Puff-free & Painless (Perfect for children and adults)
No contact with the cornea (only upper eyelid and sclera)
No need for anesthesia drops (no side effects)
No need to take out Contacts or Scleral lenses (Only with Diaton)

Safe: No risk of infecting or scratching cornea (safer vs other methods)
Cost efficient: No consumables (no need to purchase replacement tips, probes or covers, etc.)
Latex-free, handheld, non-contact, portable, pen-like tonometer
No sterilization (just alcohol swab is used to wipe off the tip)
Accurate: No pachymetry needed (independent of c

orneal biomechanics

)
No special set-up needed (measure anytime, anywhere without the need of any other preparation before the eye examination)
Ready-to-use: Daily calibration not required (saves time)
Diaton Tonometer in Action
How to Tonometry Over Eyelid with Tonometer DIATON at Academy of Ophthalmology AAO
Benefits & Advantages of Diaton tonometer by Glaucoma and Cornea specialists from Harvard/MEEI Dr. Mark Latina and Dr. Emil Chynn
Who Uses the Diaton Tonometer?
Diaton Tonometer is intended for use by Ophthalmologists, Optometrists, Ophthalmic technicians as well as Inpatient & Outpatient Clinics such as Hospitals, Emergency Rooms, Urgent Care Clinics, Nursing & Elderly Homes, General & Specialty Practitioners.
Non-corneal, Scleral Diaton tonometer is particularly useful in cases where standard direct applanation (corneal) tonometry is difficult or not viable, such as with pediatric patients, in presence of certain corneal pathology, edema, infection, following corneal surgery, keratoconus, KPro and in cases of eye trauma.
"There has been a Renewed Concern about whether Scleral Lenses cause Increase in Intraocular Pressure."
Multiple Clinical Studies showed IOP to elevate by ~5-7 mmHg regardless of scleral lens diameter worn.
Eye care practitioners that fit sclerals now Need to monitor IOP with Scleral Lenses IN the eye!
IOP monitoring with Diaton minimizes the risks & liabilities for practices and increases the level of patient care.
Contact lens Spectrum covered the topic in detail:
Link: https://www.clspectrum.com/issues/2018/september-2018/the-scleral-lens-vault
Tonometry THROUGH Eyelid & Sclera with DIATON Tonometer – How to Use Tonometer
DIATON Tonometer Pen How to Measure Intraocular Eye Pressure IOP Through Eyelid Demo vs Goldmann, Pascal, Tonopen, Airpuff
A Unique Approach
"Diaton tonometry" is a unique approach to measuring intraocular pressure (IOP) through the Eyelid. Non-Contact (no contact with cornea), no anesthesia or sterilization required, pen like, hand-held, portable tonometer.
Testimonials:
Emil W. Chynn, MD, FASC from Park Avenue LASEK stated, – "As a Cornea-Refractive trained specialist, I encounter many situations where Goldmann readings are inherently inaccurate–like post-LASIK, in cases of corneal edema, scarring, keratoconus, post-keratoprosthesis or transplant. In such cases, it's both invaluable and reassuring to have the Diaton device available to measure IOP that's independent of corneal pathology"
"It works," said Dr. Mark Latina, glaucoma specialist (Harvard / MEEI) and the inventor of Selective Laser Trabeculoplasty (SLT), after revealing results of the study titled: "Accuracy of Transpalpebral Tonometer Diaton Compared to Goldmann Applanation Tonometer in Normal and Glaucomatous Eyes".  "The Diaton device provides a very useful way to confirm Goldmann tonometry, especially in certain complicated patients, in my glaucoma referral practice."

Henry D. Perry, MD (Corneal Specialist and Comprehensive Ophthalmology – OCLI), – "Transpalpebral Tonometry is an accurate method of IOP measurement that is also independent from the biomechanical characteristics of cornea. It can be recommended for IOP measurements of patients diagnosed with glaucoma including those cases where cornea pathology or cornea characteristics have been altered."
"The [device] is easy to use, user­ friendly, and it can be used on patients for mass screening," Dr. Shazly said. "It's portable, it's economical; it's really good for screening purposes."