Diaton

Non-CORNEAL

Tonometery - No Alternative...

Major Benefits of Diaton Tonometer:
No contact with the cornea (only upper eyelid)
No anesthesia drops
No risk of infecting
No consumables (no need to purchase tips/covers..etc.,)
No sterilization
+ To view Diaton tonometry Video - Click the image or link below:

http://tonometerdiaton.com/index.php?do=home.training
Unlike Goldmann tonometry which is based on the Imbert–Fick law and is effected by CCT and other corneal parameters and corneal diseases, where small area of the membrane is flattened to measure pressure of the internal fluid. Evidence shows that variations in CCT may greatly influence Goldmann tonometry reading. Parameters such as membrane elasticity, rigidity and other biomechanical properties can influence the accuracy of the intraocular pressure readings.
Diaton

Non-corneal tonometry

solves most of the corneal measurement issues
by implementing Newton's Second Law and a Ballistic principle to obtain IOP. Readings with Diaton
Tonometer
are taken over the upper eyelid, at the tarsus and over the sclera, not the cornea.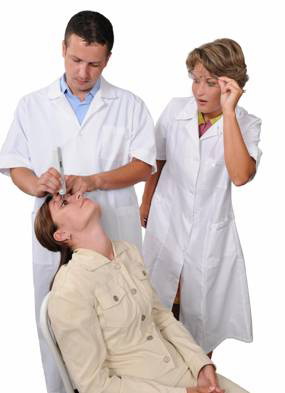 Tonometer Diaton is the perfect solution in the following cases when the use of other devices is problematic or impossible:
· Mass screening of patients.
· IOP control during clinical observation and selection of adequate hypotensive therapy for glaucoma patients.
· Serial tonometry for obtaining Diurinal curve.
· IOP can be obtained without removing contact lenses.
· IOP measuring in immobilized patients - measurement can be done sitting or supine.
· IOP measuring in children. Measurement is taken outside of the visual field.
· Patients with the following conditions: chronic conjunctivitis, corneal pathology including keratitis, keratotone, corneal dimness, after penetrating keratoplastics, keratoprosthesis, laser refractive correction, high degree of ametropy, astigmatism.
· On patients with medicinal allergies.
· Lasik / LASEK / PRK (Diaton can be used for IOP measurement right after these surgeries)
Interesting clinical study: "Comparison of Accuracy of Diaton Transpalpebral Tonometer Versus Goldmann Applanation Tonometer, Dynamic Contour Tonometer and Ocular Response Analyzer " concluded: "Transpalpebral Tonometry is an accurate method of IOP measurement that is also independent from the biomechanical characteristics of cornea. It can be recommended for IOP measurements of patients diagnosed with glaucoma including those cases where cornea pathology or cornea characteristics have been altered".
ABOUT BICOM INC - Home of tonometer Diaton - You've seen us, You know us!
BiCOM Inc.
comprises of a team of doctors, designers, engineers and business professionals. The team covers the full scope of customer service, which involves client training, follow ups, hotline support, sales support, etc. To get more information on the device or to make a purchase, visit the official website -
www.TonometerDiaton.com
, or call BiCOM at the toll free number
1-877-diatons (1-877-342-8667).
Ask Yourself - how can this transpalpebral and non-corneal tonometry be helpful in your practice or research? -- If you didn't find the answer here - simply ask us.

We Wish you Happy and Prosperous Holidays!
BiCOM Inc, 151 East Walnut Street, Long Beach NY 11561,
email us at: contact@tonometerdiaton.com